Our digital time clock - a small app with a big impact.
With our time clock app, employees record their working times using a personal PIN - on the go or on a stationary tablet.t.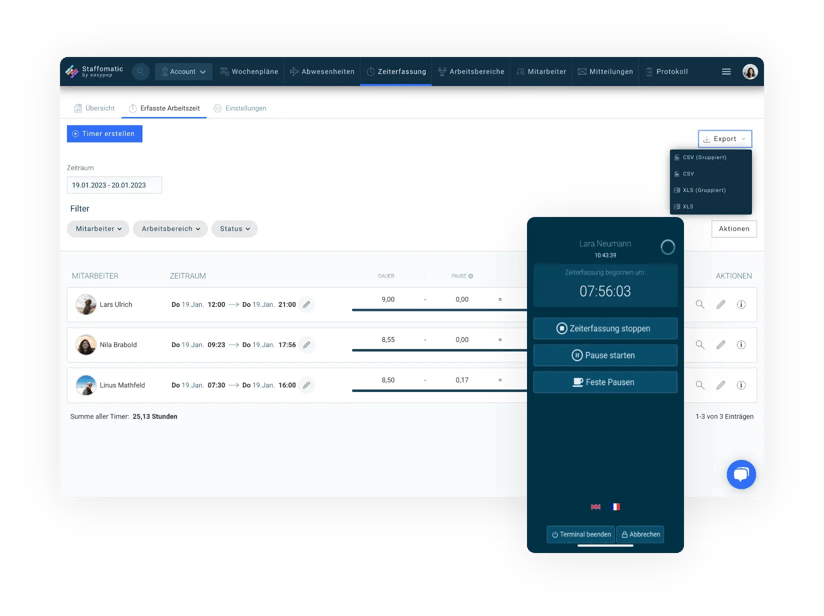 Manually create timers if someone in the team forgets to record their times.
The terminal can be used in single-user mode personally or in multi-user mode for all with PIN code
Use the terminal as an app on any end device with an internet connection.
Export all timers for payroll accounting in all common formats.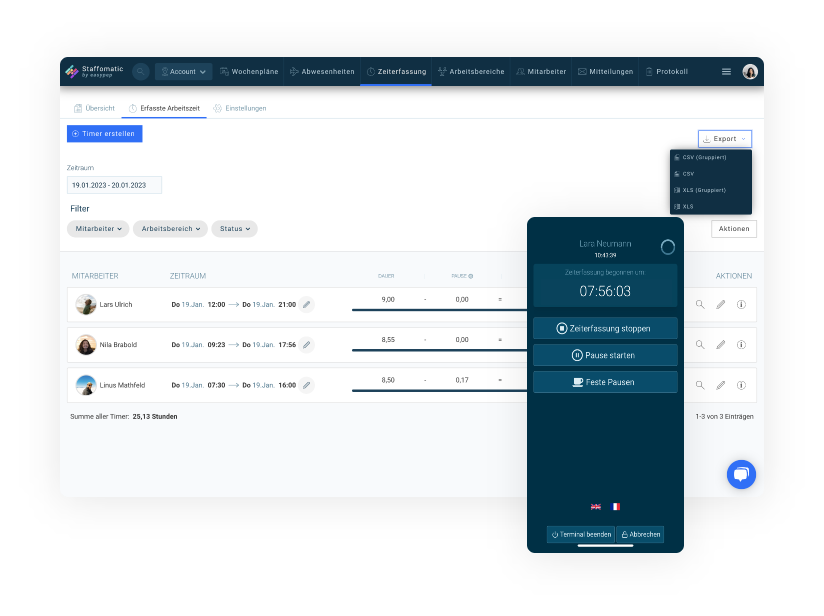 Im handel bleibt umsatz liegen, wenn schichten nicht perfekt geplant sind
Ob einzelhandel oder versandhandel - schnelligkeit und flexibilität sind von zuverlässiger personalplanung abhängig. Für alle, die planen, einteilen, erfassen und abrechnen, gibt es Staffomatic.
Sound reasons to migrate to a digital time clock!

No need for timesheets or Excel
Ready to go within minutes: download the app, set up your account, invite your team!

Accurate time tracking, fairer for all
Nothing is lost: times and breaks are recorded instantly.

Securing captured data
We back up all collected data in a European cloud - fully GDPR-compliant.

Terminal-use supported
Our terminal app works on any device - whether one stationary terminal for all or leveraging personal devices.

GDPR compliance
We handle your personal data according to the guidelines.

Personal PIN instead of punch clock
Your employees will receive a 5-digit PIN to log in and out.

Suitable for all jobs
Time recording at the touch of a finger: Whether at the desk, in the lab, or on the road.

Break management
Helps you and your team comply with legal break times and thus comply with occupational health and safety.

Boosts motivation
Overtime or minus hours are reliably recorded, no surprises.
Proven in +1,500 teams & organizations
Interested?
You would like to know more? Give us a shout!

Mo - Fr 9 - 17 Uhr